What can we say to the victims?

What can we say to the victims?
You know her. Or you've read about her. Or she's you. A victim of rape. How many of them there are! A wicked father, an abusive boyfriend, a cruel soldier, a complete stranger – guilty of the vilest of deeds. What physical and emotional injury they do. What scars they leave. What a sense of defilement. Is there anything we can say to the victim that will really help her?
The Bible is God's word. As I try to listen to it I hear at least three things that are very much for the girl or woman who has suffered this dreadful crime. Three things to which God himself is the answer.
First, to the cry of their hearts for justice. For the wrong to be punished. It will be punished! And not merely through courts and imprisonment (which the rapist may escape). In my mind, rather, is the day when he will stand before God to be judged and will be sent by God to hell. God will not let this crime go unpunished. Hell is for rapists and to hell they will go.
Nor will justice fail should the rapist repent and seek the mercy of God – for which we should always pray. Such a man will certainly be welcomed into heaven. But not at the expense of justice. His admission to heaven will only happen because (amazingly!) God's Son chose to bear his guilt and endure his punishment himself. The cry of the victim's heart for justice is a cry that is always answered.
Second, to the victim's own need of salvation. When someone has been so grievously sinned against as a rape victim it may seem a little callous to speak about her own sin. But it's the loving thing to do. All have sinned. The violator, he has sinned. Appallingly. But his victim is a sinner also and in need of a Savior too.
In a moment we shall see how marvelously Jesus, God's Son, is the source of hope and healing. But there is no automatic access to these for anyone. They come only as Jesus is embraced by the victim as the Savior from sin that she needs.
Third, to the longing for healing and hope. Here we must proceed with care. The presence and power of Jesus in a rape victim's life is no guarantee that in this life everything will be put right – that her injuries will be healed, her scars fade, and that she will be able to put everything behind her. In this life, to a greater or lesser degree, we all have to live with the consequences of sin – both our own and others'.
Nevertheless, the healing of Jesus is a this-life reality and may be enjoyed to a remarkable degree. His is utterly extraordinary grace and can do extraordinary things by way of mental and emotional healing.
Supremely, however, there is the world to come – the great horizon of New Testament Christianity. However partial and imperfect the healing of this life, it will be gloriously complete in the world to come. God will wipe away all tears from the eyes of his children who have suffered in this terrible way. So perfectly will he heal them that there will be no emotional scars, no physical scars, no mental scars, no sense of defilement, to all eternity.
Do you see how completely God himself is the answer? Whether it be to the cry of the heart for justice, or to the victim's own need of salvation, or to the longing for healing and hope? Let no reader who has suffered in this way have any hesitation in turning to him in faith.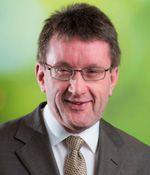 David Campbell
Grace Baptist Church
777 W North Street
Carlisle, PA 17013