No greater gift than this

No greater gift than this
Christmas is a time for giving gifts and most of us, I'm sure, are thinking about and planning what we are going to give. It is also a time when we think about a gift that has already been given, the greatest gift that has ever been given – Jesus, God's Son. He is God's gift to us, and it's in that light that I want us to think of him.
Behind most of the gifts we will receive on Christmas Day there lies a loving heart. And that's what makes these gifts so special. They may not always be exactly what we want but we know that they are given in love and we appreciate them for that reason. Nowhere, however, is love more in evidence than in the greatest gift God has given. If ever a gift was given in love, it was Jesus. The Bible tells us that it was because God 'so loved the world' (John 3.16) that He gave him. Jesus is the gift of a loving God.
We see this so clearly when we think of the reason God gave him. When we give to relief organisations we are doing so because people are in need. Maybe it's the typhoon-devastated people of the Philippines or an African people whose crops have failed because of drought. There is a real and pressing need. And out of concern we give something so that in some measure the need is met.
Now it is just like that with God's gift of the Lord Jesus. He was given so that a real and pressing need might be met – a need shared by everyone. Listen to how the Bible explains it. Beginning with the glorious truth that 'God so loved the world that he gave His one and only Son', the Lord Jesus, it then goes on to tell us the reason for the gift: 'so that whoever believes in Him shall not perish but have everlasting life' (John 3.16).
It is the word perish that brings home to us our need. For the reference is to Hell. Our sins have separated us from God and to perish means to endure that separation forever. It is to be eternally cut off from the favour and friendship of God. Our greatest need is for someone to deliver us from perishing and bring us back into the enjoyment of God's friendship. It was precisely for this reason that Jesus was given. He is God's love gift to a needy world – given so that we might not perish but have instead eternal life.
And what a valuable gift He is! We sometimes estimate the value of a gift by its reliability. If it always works and never lets us down it is a valuable gift! Judged by that criterion, Jesus is a gift of the highest value. For God's promise is that whoever believes in Him shall not perish but have eternal life.
Now to believe in God's Son is to welcome Him into our lives as Saviour and Lord. It is an act of unreserved surrender and commitment to him. It is to place our reliance upon him to do for us what we cannot do for ourselves. We cannot save ourselves from perishing. It is impossible. So we look to Jesus (and to him alone) to do it for us. And God has promised that whoever does that will not perish but enjoy His friendship forever. Isn't that the best news in the world?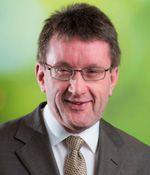 David Campbell
Grace Baptist Church
777 W North Street
Carlisle, PA 17013