No better marriage than this

No better marriage than this
Anyone know what a morganatic marriage is? When I came across the expression recently and reached for the dictionary I had no clue whatsoever as to what I would find. The discovery was interesting!
The marriage last year of the heir to the British throne, HRH Prince William, to Catherine Middleton (or William and Kate, as all the world knows them) captured the imagination for a number of reasons. Both young. Both strikingly good looking. Both very popular. And he was a future king and she was a commoner.
Now imagine you are royalty and you want to marry a commoner. Or a member of the aristocracy with lands, title, and heaps of money, and the girl who has captured your affections is a waitress at the local diner. You might decide (unlike William and Kate) on making it a morganatic marriage.
Here's what that will mean for your wife and children: On your death they will be entitled to nothing from you. No lands. No castle. No titles. No fortune. No elevation to the aristocracy or the throne. A morganatic marriage neither raises a wife's status nor secures for her an inheritance at all commensurate with her husband's wealth and position.
But now for another marriage. The relationship between Jesus Christ and the people whom he loves and is saving is pictured for us in the Bible under a number of different images. One of them is a marriage.
Think about it. If ever there was a marriage between king and commoner it's this one. For Jesus is the high and eternal King of Heaven, royal with the royalty of God, whilst we are mere humans – creatures of time and sinners to boot. And yet to have us as his bride he took our nature, bore our sins, suffered and died for us, and then woos us until he wins our love.
And the best part is this: This is no morganatic marriage. Quite the reverse! Our status, for instance. Jesus is the Son of God, and those whom he saves are forever (leaving the marriage metaphor behind for a moment) his beloved brothers and sisters. He is King over all, and his bride will one day share his throne with him, forever ruling the universe by his side.
Then there is our inheritance. The Bible puts it like this: "heirs of God and co-heirs with Christ" (Romans 8.17). The things that God has for his Son in the future (including a wonderful new world, free from sorrow, sin, and death) will be his people's to share in to the full. No better marriage than this! And amazingly, Jesus is actually seeking sinners in order to make these blessings theirs. Seeking you.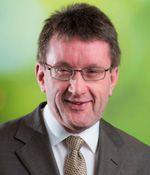 David Campbell
Grace Baptist Church
777 W North Street
Carlisle, PA 17013