In the Best of Hands

In the Best of Hands
One of the unique things about us as humans is our ability to ponder the future – to wonder, to imagine, to look forward to, to fear what lies before us. And we all make use of it! Our minds turn every day to the future and what that future might hold for us.
For all our pondering, however, we cannot penetrate the future. The wisest of all Jewish kings, King Solomon, once said, "we do not know what a day may bring forth", and that as just as true today as it was when Solomon first said it millennia ago. Gazing into the future is like gazing into the blue of a cloudless sky. No matter how hard we strain our eyes we cannot see the wonderful array of stars that lie beyond. So it is with respect to what is ahead. Try as we may we cannot see what lies beyond the present.
If there were no such things as sorrows and difficulties, the unknownness of the future would be something we could easily live with. But life is not like that, as we very well know. Hence the anxiety and fear we often feel as we contemplate what coming days might hold.
To those of us who are believers in Jesus, however, the Bible gives a great assurance, one that we may carry with us into all our unknown future days: our times are in God's hands (Psalm 31:15). What that means is that all the events and circumstances of our lives – past, present, and future – are under God's control and direction; they all take place in accordance with his sovereign will. There is nothing that happens by chance; we are not in the grip of a blind fate; we are not at the mercy of Satan; nor we helplessly in the hands of other people and the influence they have over our lives. Our times are in God's hand. It is he who is at the helm from beginning to end, directing everything by his sure, wise, loving, all-powerful hand.
In the light of this I want to say something about becoming a Christian. Becoming a Christian is a very radical thing to do. It means placing yourself entirely in the hands of God. It is saying to him, "I give myself to you, to be saved by you, to be taught by you, to be guided by you, to be governed by you". You cease to be your own. Through Jesus you become God's man, God's woman, God's boy, God's girl.
Does that sound too radical a thing to do? Here is something to put into the mix: the God into whose hands you will place your all is a God who will love you, take care of you, protect you, and carry you through everything you will ever have to face. He is a God most wise, most loving, all-powerful, and unchangeably good – a God who will be with you all the way and will make everything turn out at last for your eternal good and for his eternal glory.
So you have nothing to fear! You will be in the best of hands for ever and ever. Place yourself unreservedly, therefore, in God's hands! Come to him, holding nothing back, and say to him, "I take you to be my God and Saviour. From this time on I am wholly yours – to be saved by you, taught by you, guided by you, governed by you just as you will". It will be by far the best thing you ever do and will secure for you God's endless blessing. May he himself kindly help you.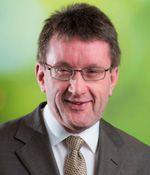 David Campbell
Grace Baptist Church
777 W North Street
Carlisle, PA 17013