Great grammar – and a great deal more

Great grammar – and a great deal more
And first, a quotation:
"A panda walks into a cafe. He orders a sandwich, eats it, then draws a gun and fires two shots in the air. 'Why?' asks the confused waiter, as the panda makes towards the exit. The panda produces a badly punctuated wildlife manual and tosses it over his shoulder. 'I'm a panda,' he says, at the door. 'Look it up.' The waiter turns to the relevant entry and, sure enough, finds an explanation. 'Panda. Large black-and-white bear-like mammal, native to China. Eats, shoots and leaves.'" (Lynne Truss, Eats, Shoots & Leaves: The Zero Tolerance Approach to Punctuation)
Then second, a confession: I too have problems with commas. I flatter myself that I would have done a much better job with the wildlife manual – at least with the entry on pandas. But commas do confuse me. I keep wanting to put them where they don't belong and often omit them from places where they do belong.
Perhaps it was my schooling. If it was (I realise I may simply have been daydreaming at the critical moment), the problem was widespread. When I was studying English literature at the University of Glasgow back in the early 1980s, the powers-that-be put all the students through a crash course in basic English grammar. So awful had standards become! I don't think I was any the wiser for it.
So what do I do when I need to write? This column, for instance? Fortunately I have my own in-house grammarian, my older daughter Megan. Commas hold no fears for her! She knows exactly where they should go and stands no nonsense from any of them. And in her case there is no 'perhaps' about it. It was her schooling that did it.
Coming from Great Britain and starting sixth grade in Grace Baptist Church's Christian School was a very scary thing. Challenges abounded, not the least of them being the grammar. For make no mistake, Grace Baptist Christian School is big on grammar! Catching up and keeping up wasn't easy. But it gave Megan an excellent grounding. And her dad an outstanding editor.
You appreciate, however, that there was more to the decision taken forty-five years ago to establish a Christian School than the desirability of producing young people who could write and speak properly. Fundamentally, we wanted the world view of our children to be shaped by the one thing that can shape it with perfect accuracy – the Bible.
A bold claim? Not in the light of what the Bible is. From beginning to end the Bible is unquestionably the product of fallible human writers. These writers, however, were so guided by God that the end result is a document that encapsulates exactly the mind and will of our Creator. It is inspired, inerrant, and absolutely authoritative on all questions of faith and morals. It tells us about the God who made us, declares to us his law (the Ten Commandments), confronts us with the fact of our sin, and points us to Jesus, the one Saviour in all the world who is able to give us eternal life.
There is no safer, healthier, truer, more important guide for life and thought than the Bible. Can you wonder that we should want it to shape the entire thinking and behaviour of our very precious children?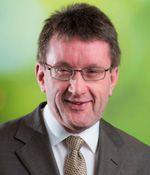 David Campbell
Grace Baptist Church
777 W North Street
Carlisle, PA 17013