Certainty for an Uncertain Future

Certainty for an Uncertain Future
I wonder what your plans are for this new year. Some of you, I'm sure, have got a vacation booked and are counting down the weeks (or days). Perhaps there is a family wedding on the horizon or a special anniversary and you're busy getting ready. If your home is like mine there will be a calendar in one of the rooms with all kinds of things written on it, things that you hope to do. Your boss has doubtless got plans for you as well!
Isn't it true, though, that we have no guarantee that any of these plans will be fulfilled? I often think about something King Solomon once said. You will find it in the Bible in the book of Proverbs: 'Do not boast about tomorrow', counselled the king, 'for you do not know what a day may bring forth.' These words were written several thousand years ago and they are just as true today as they were back then. We are always facing the unknown.
The upshot of course is uncertainty. We can never be sure in advance that our plans will come off. There is always the possibility that something unforeseen will happen. An accident perhaps. My parents once had a special vacation arranged for them by the family to mark their Golden Wedding. But when my father tripped and fell and broke his leg the vacation had to be cancelled. It was just one of these unforeseen things. We've all experienced them ourselves, and will do so again this year. Our health, our job situation, our family circumstances, may all unexpectedly change; our very lives may unexpectedly come to a close. Who can tell?
For Bible-believing Christians, however, there is a tremendous certainty we enjoy amid all this uncertainty. Our God is always with us. He has promised never to leave us, not even for a moment. And God always keeps his promises. It is the solidest of comforts as we face an unknown future. Whatever our circumstances, we know that God is always going to be there for us – to guide, to strengthen, to bless, to ensure that all things work out for our good, and, at the end of it all, to take us safely to heaven.
Do you know how all this has come about?  Only through God's great mercy shown to us in Jesus his Son. That mercy enabled us to turn to Jesus in all our desperate need as sinners. It moved us to look to him to do for us what we could never have done for ourselves, to save us from our sins. Nor did he turn us away! He most lovingly forgave our sins and welcomed us into a friendship with God that will go on uninterruptedly for eternity.
And that is why we enjoy the abiding presence of God! Through Jesus it came to us as a free and utterly undeserved gift. And that's why you may enjoy it too.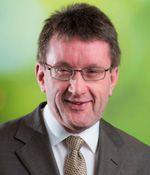 David Campbell
Grace Baptist Church
777 W North Street
Carlisle, PA 17013