Blessed Either Way

Blessed Either Way
I begin with a confession: I am incurably British. I drink British tea, listen to British radio, write with British-bought ink, my sermons are on British-sized notepaper, and I keep a British diary. The diary is a page-to-a day job and I haven't missed an entry in over twenty years. It's my stock excuse when (justly) blamed for not taking family photographs: I write the family chronicle.
Have you ever leafed through a diary at the beginning of a year? I often have. All those blank pages! What am I going to write in them? I can never tell. There was a wise king in the Bible named Solomon who once observed – as a reason for not boasting about tomorrow – that "we do not know what a day may bring forth" (Proverbs 27.1). Three thousand years on it's still the same. We moderns are no more able to penetrate the unknown future than the ancients were.
I once gave a children's talk on this subject. It was at a Sunday morning service in my old congregation in England just after a new year had begun. I had brought my new diary with me. All those blank pages! What was I going to write in them? Well here was something I could write. With perfect confidence. On every page. In advance! "Either the Lord will be with me or I will be with the Lord".
Sound insipid? Not if you know this Lord! Biblical Christianity is all about a restored relationship. Through Jesus, God's Son, the breach with God that was made by our sin can be repaired. There can now be friendship where before there was alienation. And what a friendship! We who are privileged to enjoy it have the never-interrupted presence of God with us. Right to the end of our days. And then forever beyond that as we glorify and enjoy him in heaven.
The title of this piece is Blessed Either Way. All of God's friends, in 2012, will be blessed with his companionship on earth or be blessed with it even more in heaven. Either way, we are blessed!
Christmas this year has been darkened for me by the death of a dear friend from cancer. It was all so sudden. Many of you know what that is like. But Andrew for long years had been blessed with the friendship of Jesus his Saviour and Jesus was with Andrew to the very end. And now Andrew is with Jesus in heaven, unimaginably more blessed.
And you? You seek and find the friendship of God through Jesus and the same blessings will be yours. It is Jesus' own promise: "whoever comes to me I will never drive away" (John 6.37).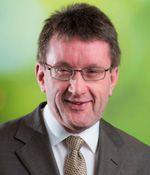 David Campbell
Grace Baptist Church
777 W North Street
Carlisle, PA 17013